In 1940, in the Old Arakchino village, what is near Kazan, in the Manas Khan's family was born the son Ildar... and in 1943 he died. Rather, his parents decided so
at first
. Before, their two sons have already died of starvation. It was the third year of the war.
People were dying from malnutrition and hard labor. Manas's wife sewed shrouds for the dead of the bags in which to transport the gunpowder. This time s
he began to sew a shroud for her own son, small Ildar. But the boy did not immediately buried, according to the rite. And on the third day he came to life. Father traded his shoes for milk. The parents fed their resurrected son of this milk.
Ildar remembers well what happened to him that day. He lay in a delirium on the bed, suddenly, a mysterious force began to rotate the boy. Sheets took off, becoming angels, and then there was a whistle, and Ildar rushed into a long tunnel ... The tunnel widened into a majestic whistle melody, and then there was silence.
And then Ildar saw the world at the same time - millions of people. Among them were those who knew the boy. And then came Jesus Christ. He took Ildar hand and led him away, showing gardens of paradise, hell, the entire universe ... The kid really liked in that world, he wanted to stay. But Jesus said, "You all saw, but you're still early here. You have to go back to the earth, and fulfill its destiny. "
Then, as if through a fog, he heard the voices of mother and neighbor. The boy wanted to open eyes and say something to make them understand that he, Ildar alive! But forces have been just enough to stir ...
Soon the boy began to draw: instead of the colors - charcoal and sugar beet, instead of paper - old newspapers ...
The war ended ... Ildar grown. In 1960 he graduated from the Kazan Art School, class of monumental art, and in 1968 - the Surikov Institute in Moscow. He became a member of the Union of Artists. He had several solo exhibitions. Now, many Ildar works are in museums in Russia.
Ildar Khans traveled. He was acquainted with many artists and politicians.

The road led him to Tibet to India. He learned the art of the eastern countries, Buddhism, Yoga, Tibetan and Chinese medicine, has practiced healing. It was then that he had matured the idea of ​​the Universal Church .. In 1993, the Khans returned to their homes. Soon, he was awarded the title of "Honored Artist of the Republic of Tatarstan".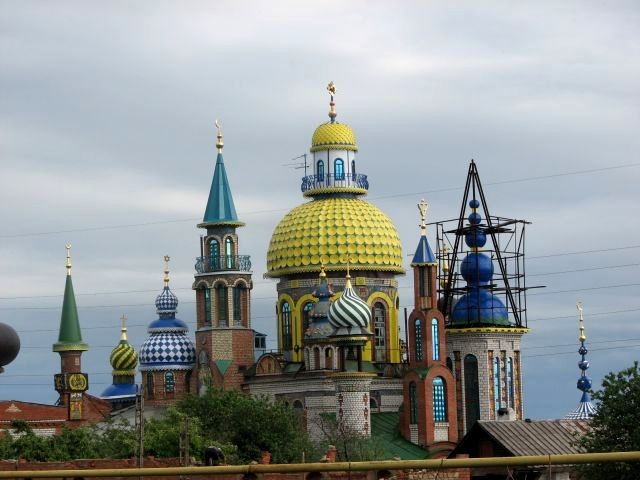 Wooden walls parent homes keep the memories of childhood. The deceased's parents look to the old photos. It was there that he decided to erect a temple. Money for the project was not, but in 1994, Ildar yet started to build. Builds every day. The funds are ..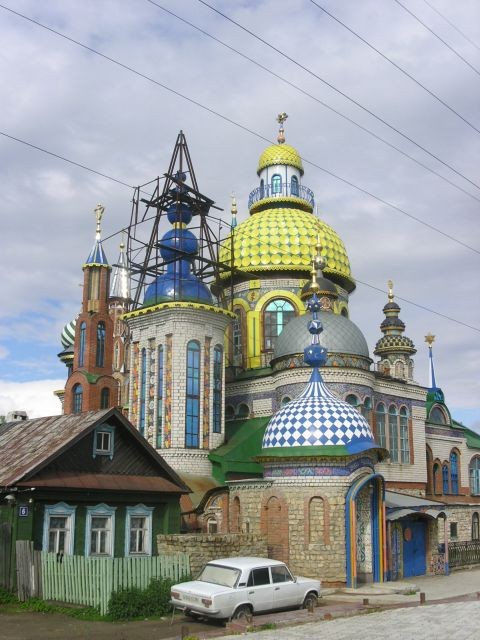 With the advent of the Khans in Tatarstan, the rumor of his gift of a healer spread at a rate of avalanches.

The temple grew with each passing day. Multi-colored dome attracts journalists, guests from other cities, people hungry for truth, seeking a miracle cure and the simply curious.
The queue of patients each year has increased, hundreds of people queue patiently hatched many hours in the heat and cold for his portion of a miracle ... However, started saying that his unconventional methods of treatment harm to people.

Representatives of some denominations have taken unwavering position that the Khans blasphemy, combining different churches in fact, under one roof.
However, Ildar Khans did not seem to hear the angry voices, and continues to build a temple in which he wants to combine sixteen religions: those that are living now, those that remained in the deep past, and those of which humanity does not know yet. He wants to proclaim the equality of all religions, cultures and civilizations on our planet.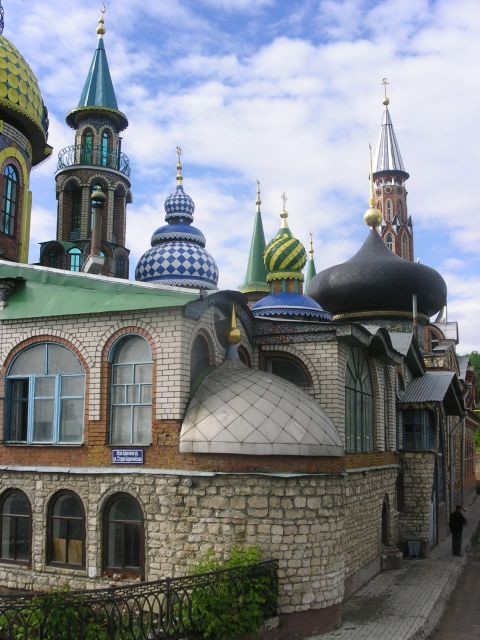 How to take it all? Maybe it still showed up, "a prophet in his own country?" Or is it all - a utopia, a naive dream, and even, God forbid, a cunning plan? ..

- I am a Muslim by birth, - says Ildar Khans. - But as I studied Christianity, it has become very close to me, too. I'm probably the "man of peace": in all religions, I find something close and I see no contradiction between them. I want to create the first center of bringing people together around a single Lord ... Yes, our task today - to unite humanity, to put it on the path of solidarity, destroy the evil in people and save ourselves for the future.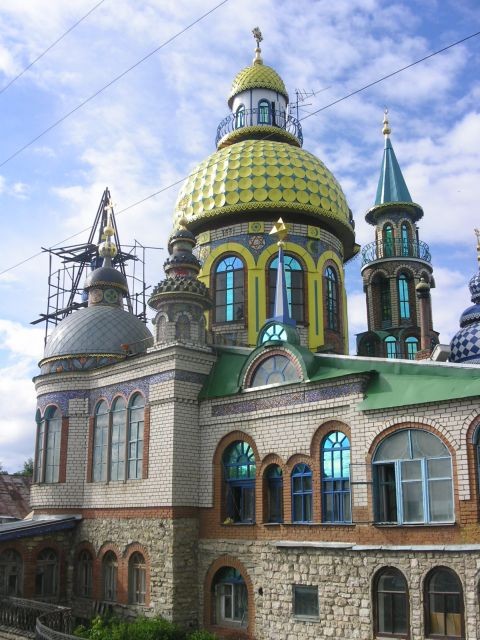 And which way to vote for this - it's a private matter ... I would like to create a classical school of philosophy, philosophers gather, to settle them in their month, and let them create this concept of peace. In Tatarstan, Russia, the world and let people think, how do we survive economically, politically, how to preserve the culture, languages...
The basis of my concept - the desire to spread around the globe the idea of good, to reunite the religion to repay the war, people had the opportunity to develop harmoniously. If a child bring a person with faith in God and in the forces of light, then he becomes a creator. My goal - to create pockets of goodness in the world ...

- How are you going to cope alone with the construction?
- People help. Someone brings building materials, someone - medical equipment, someone makes money.

- And yet ... you have no children or direct heirs. But man is not eternal. Are not you afraid that one day it all falls apart?
- I'm not afraid. All of this will remain human beings. Even if the temple was razed to the ground, the day will come - and it will revive even more beautiful. And my death I do not care ..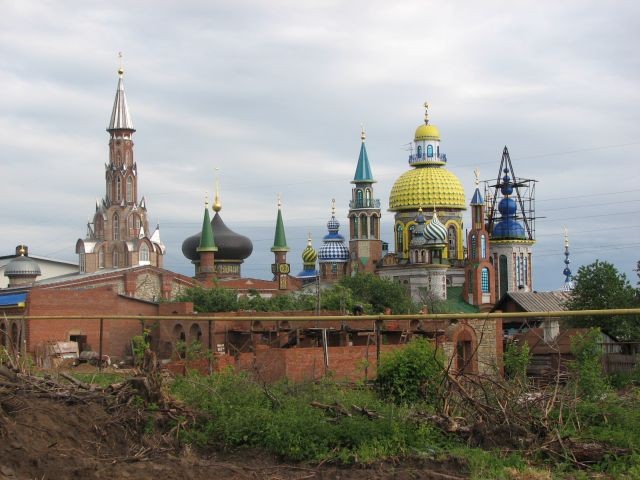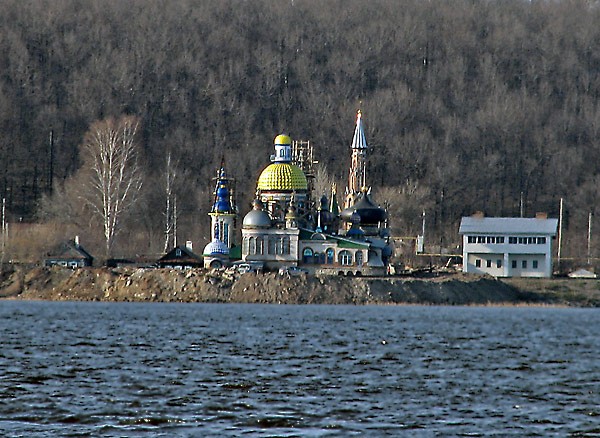 http://www.liveinternet.ru/community/1773937/post99156509/